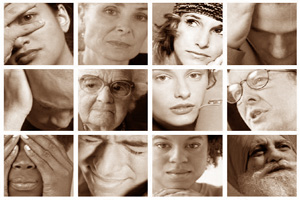 Department of Health, State of Western Australia

Introduction :


Psycho-Oncology is concerned with the psychological, social, behavioural, and

ethical aspects of cancer. This sub-speciality addresses the two major

psychological dimensions of cancer: the psychological responses of patients to

cancer at all stages of the disease (and that of their families and caretakers); and

the psychological, behavioural and social factors that may influence the disease

process. (Holland JC, 1992 ).

Psycho-oncology is an area of multi-disciplinary interest and has shared

boundaries with the major specialities in oncology including medical oncology,

haematology and radiation oncology : the clinical disciplines (surgery, medicine,

paediatrics, and radiotherapy), epidemiology, immunology, endocrinology, biology,

pathology, bioethics, palliative care, rehabilitation medicine, clinical trials research

and decision making, as well as psychiatry and psychology (Adapted from Holland

JC).

The domain of psycho-oncology includes the formal study, understanding and

treatment of the social, psychological, emotional, spiritual, quality of life and

functional aspects of cancer; as applied across the cancer trajectory from

prevention through to bereavement. It seeks to develop and integrate new

knowledge and techniques of the psychosocial and biomedical sciences as it
relates to cancer care (Canadian Association of Psychosocial Oncology, 1999).
Table of Contents
Introduction .
1.1 Defining Psycho-Oncology .
1.2 Rationale for Developing a Psycho-Oncology Model of Care.
1.3 Current Quality of Psychosocial Care of Cancer Patients in Western Australia.
1.4 Guiding Principles for a Psycho-Oncology Model of Care.
1.5 Defining Psychosocial Distress.

2. Model of Care .
2.1 Point of Entry.
2.2 Universal care.
2.3 Clarify Nature and Extent of Distress.
2.4 Who Should Provide Psychosocial Support?
2.5 Management of Mild Distress.
2.6 Management of Significant Psychosocial Distress
2.7 The Role of General Practitioners .
2.8 Management of Moderate to Severe Distress.

3. Referral for Specialised Interventions .
3.1 Referral to Other Disciplines.
3.2 Specialist Clinical Psychology Services.
3.3 Psychiatric Care in the Cancer Setting .
3.4 The Need for Co-operation Between Psychosocial Support Services .

4. Specific Areas for Consideration of Psychosocial Care Needs .
4.1 Children of parents with cancer.
4.2 Psychosocial care of the child and adolescent with cancer and their families.
4.3 Services for Rural and Remote Patients .
4.4 Alternative and Complementary Therapies .
4.5 Psychosocial Care of Families and Carers of People with Cancer .
4.6 The Psychosocial Care of People From Culturally and Linguistically Diverse Backgrounds (CALD) .
4.7 Sexuality, Body Image and Cancer.
4.8 Aboriginal and Torres Strait Islander Cancer Patients .
4.9 Education and training .
4.10 Grief and bereavement services.

5. Research.
6. Conclusion and Final Recommendations.
Acknowledgments .
References .
Appendices .
Appendix 1: WACPCN "Referral Pathways Document for
Psychosocial Care Providers for Cancer Patients and
Carers / Families in Western Australia .
Appendix 2: NCCN Distress Thermometer and "Problem List" .
Appendix 3: NBCC Psychosocial Care Referral Checklist .
Appendix 4: Explanatory Notes to the NBCC Psychosocial Care
Referral Checklist .
Appendix 5a: NBCC & NCCI Guidelines table of Recommended
General Interactional Skills in Any Consultation With a
Person With Cancer (Table 3.1 pg 42 NBBC & NCCI) .
Appendix 5b: NBCC & NCCI Guidelines table of Recommended
Steps Involved in Ensuring That All People With
Cancer Have Adequate Emotional and Social Support
(Table 3.3A pg 70 NBCC & NCCI) .
Index of Figures

Figure 1. Patient Pathway .
Figure 2. Tiered Intervention Model for Psychosocial Interventions .
Figure 3. Appropriate Referral and Specialized interventions for specific problems.
Figure 5. "Types of intervention and their impact on patients with cancer".
Figure 6. Type and prevalence of sexual problems reported by patients with different types of cancer .
You've just read an article category Oncology and Hematology by title Psycho-Oncology Model of Care. You can bookmark this page URL http://www.openaccessbooks.com/2013/01/Psycho-Oncology-Model-of-Care.html. Thank you!
Published by:
Unknown
- Saturday, January 19, 2013