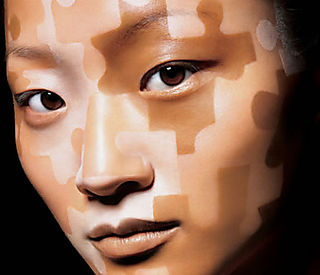 Edited by Kelly KyungHwa Park and Jenny Eileen Murase .
174 pages .



Vitiligo is a common yet frequently misunderstood disease. Despite the historical

and cultural significance of vitiligo, as well as its impact on the lives of those

affected, the pathogenesis, clinical presentation, and management of vitiligo remains

elusive. The expertise and knowledge of an international group of experts and

clinicians well-versed in vitiligo have been gathered to provide the reader with a

practical guide to vitiligo.

We hope that the reader can gain insight into vitiligo as a disease and its management,

as well as demonstrate the ability to apply the fundamental concepts covered in this

book. Our wish is that this book will be a concise yet comprehensive tool for the

dissemination of the newest developments and therapeutic advances in vitiligo.
Acknowledgements
I am grateful for the unwavering support of my co-editor and mentor, Jenny Murase,
M.D., as well as my mentors, John Koo, M.D., and Rebecca Tung, M.D.
As always, I am thankful to my parents, Youn Wook Park, M.D., and Kay KongBum
Shin-Park, Ph.D., my sister Sonja Park, M.A., and Edgar, for their endless
encouragement.
I also wish to acknowledge the nurses and staff at the University of California San
Francisco, Psoriasis and Skin Treatment Center, who make every day pleasant for
physicians and patients alike.
Kelly KyungHwa Park, MD
Department of Dermatology
University of California San Francisco
San Francisco, California
USA
To my Katsuyuki, Emi, Lilia, and Kento for reminding me of the richness of life and
the joy of laughter, and to my parents for teaching me how to give to others: for
nothing is more important than family!
Jenny Eileen Murase, MD
Palo Alto Foundation Medical Group
Department of Dermatology
Mountain View, California
USA

CONTENTS :

Chapter with Expert Opinion 1Kelly KyungHwa Park and Seung-Kyung Hann

Chapter 1 Genetic Epidemiology and Heritability of Vitiligo 17Abdullateef A. Alzolibani, Ahmad Al Robaee and Khaled Zedan

Chapter 2 The Pathogenesis of Vitiligo 31Marlene Dytoc and Neel Malhotra

Chapter 3 The Psychosocial Aspects of Vitiligo: A Focus on Stress Involvement in Children with Vitiligo 57
Liana Manolache

Chapter 4 Ultraviolet B (UVB) Phototherapy in the Treatment of Vitiligo 69
Kelly KyungHwa Park and Jenny Eileen Murase

Chapter 5 A Comparison of NB-UVB and PUVAin the Treatment of Vitiligo 95
Jiun-Yit Pan and Robert P.E. Sarkany

Chapter 6 Systemic Corticosteroids in Vitiligo 107Binod K. Khaitan and Sushruta Kathuria

Chapter 7 Segmental Vitiligo 117Ji-Hye Park and Dong-Youn Lee

Chapter 8 Vitamin D and Vitiligo 127Sang Ho Oh and Miri Kim

Chapter 9 Topical Calcineurin Inhibitors in the Treatment of Vitiligo 135
Cristina Caridi, Andrew Sohn and Rita V. Patel

Chapter 10 Complementary and Alternative Medicine for Vitiligo 143Jimi Yoon, Young-Woo Sun and Tae-Heung Kim .
You've just read an article category Dermatology by title VITILIGO – MANAGEMENT AND THERAPY. You can bookmark this page URL http://www.openaccessbooks.com/2013/01/vitiligo-management-and-therapy.html. Thank you!
Published by:
Unknown
- Wednesday, January 30, 2013