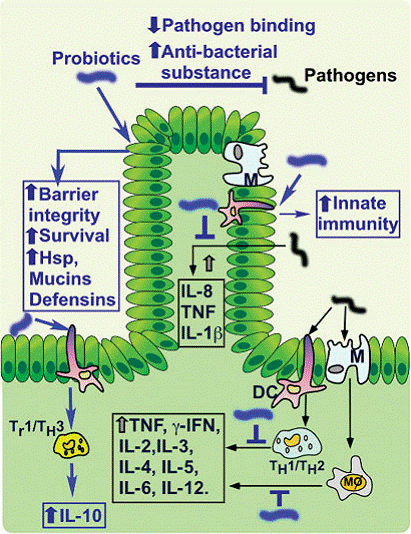 Edited by Everlon Cid Rigobelo .
654 pages .



Probiotics are specific strains of microorganisms, which when served to human in

proper amount, have a beneficial effect, improving health or reducing risk of get sick.

They are used of functional foods and pharmaceutical products and play an important

role in promoting and maintaining human health. This book comprehensively reviews

and compiles information on probiotics strains in 30 chapters which cover the use of

probiotics the editor has tried arrange the book chapters in a issue order to make it

easier for the readers to find what they need.

Section 1 – Use of Probiotics in food, which includes chapters 1-12 is showed issues

related with the use of probiotics in food on different approaches such as lactose

intolerance and functional foods development

Section 2 – Probiotics in Health, which includes chapters 13-22 is showed issues

related with the use of probiotics in human´s health such as application in

inflammatory diseases, interaction in the gut and prevention of necrotizing.

Section 3 – Probiotics in Biotechnological Aspects, which includes chapters 23-26 is

showed issues related with the Biotechnological Aspects such as probiotics

stabilization, types and specifications.

Section 4 – Probiotics in Aquaculture, which includes chapters 27-28, chapters related

with probiotics in shrimp larvae and biofilms.

This book is written by authors from America, Europe, Asia and Africa, yet, the editor

has tried arrange the book chapters in a issue order to make it easier for the readers to

find what they need.

The scientists selected to publishing of this book were guests due to their recognized

expertise and important contributions on fields in which they are acting. Without these

scientists, their dedication and enthusiasm the publishing this book would have not been

possible. I recognize the efforts them in the attempt of contribute to animals production

contributing thus to the developing Human and I´m very gratefully for that.

This book will hopefully be of help to many scientists, doctors, pharmacists, chemicals

and other experts in a variety of disciplines, both academic and industrial. It may not

only support research and development, but also be suitable for teaching.

I would like to thank Professor Fernando Antonio de Ávila by his life lessons and also

by he to be my scientific mentor.

Finally, I would like to thank my daughter Maria Eduarda and my wife Fernanda for

their patience and also my son that is coming and in this moment is inside of

comfortable womb from Mom. I extend my apologies for many hours spent on the

preparation of my chapter and the editing of this book, which kept me away from

them.



Prof. Dr. Everlon Cid Rigobelo
Laboratory of Microbiology & Hygiene,
UNESP Univ Estadual Paulista
Animal Science Course
Dracena
Brazil
CONTENTS :
Section 1 of the textbook : Use of Probiotic in Food .

Chapter 1 Recent Application of Probiotics in Food and Agricultural Science 3
Danfeng Song, Salam Ibrahim and Saeed Hayek

Chapter 2 Nutritional Programming of Probiotics to Promote Health and Well-Being 37
Alice Maayan Elad and Uri Lesmes

Chapter 3 Conjugated Linoleic and Linolenic Acid Production by Bacteria: Development of Functional Foods 55
Carina Paola Van Nieuwenhove, Victoria Terán and Silvia Nelina González

Chapter 4 Development of New Products: Probiotics and Probiotic Foods 81
Z. Denkova and A. Krastanov

Chapter 5 Dairy Probiotic Foods and Coronary Heart Disease: A Review on Mechanism of Action 121
Fariborz Akbarzadeh and Aziz Homayouni

Chapter 6 Probiotics in Dairy Fermented Products 129Emiliane Andrade Araújo, Ana Clarissa dos Santos Pires, Maximiliano Soares Pinto, Gwénaël Jan and Antônio Fernandes de Carvalho

Chapter 7 Probiotics and Lactose Intolerance 149Roel J. Vonk, Gerlof A.R. Reckman, Hermie J.M. Harmsen and Marion G. Priebe

Chapter 8 Cereal-Based Functional Foods 161R. Nyanzi and P.J. Jooste

Chapter 9 Functional Dairy Probiotic Food Development: Trends, Concepts, and Products 197
Aziz Homayouni, Maedeh Alizadeh, Hossein Alikhah and Vahid Zijah

Chapter 10 Innovative Dairy Products Development Using Probiotics:Challenges and Limitations 213
Esteban Boza-Méndez, Rebeca López-Calvo and Marianela Cortés-Muñoz

Chapter 11 Milk and Dairy Products: Vectors to Create Probiotic Products 237
Gabriel-Danut Mocanu and Elisabeta Botez

Chapter 12 Probiotic Confectionery Products – Preparation and Properties 261
Dorota Żyżelewicz, Ilona Motyl, Ewa Nebesny, Grażyna Budryn, Wiesława Krysiak, Justyna Rosicka-Kaczmarek and Zdzisława Libudzisz


Section 2 of the textbook : Probiotics in Health .
Chapter 13 Probiotics in Pediatrics – Properties, Mechanisms of Action, and Indications 309
Antigoni Mavroudi

Chapter 14 Probiotics Applications in Autoimmune Diseases 325Hani Al-Salami, Rima Caccetta, Svetlana Golocorbin-Kon and Momir Mikov

Chapter 15 Probiotics: The Effects on Human Health and Current Prospects 367
Giselle Nobre Costa and Lucia Helena S. Miglioranza

Chapter 16 Saccharomyces cerevisiae var. boulardii – Probiotic Yeast 385
Marcin Łukaszewicz

Chapter 17 Microbial Interactions in the Gut: The Role of Bioactive Components in Milk and Honey 399
Rosa Helena Luchese

Chapter 18 Lectin Systems Imitating Probiotics: Potential and Prospects for Biotechnology and Medical Microbiology 417
Mikhail Lakhtin, Vladimir Lakhtin, Alexandra Bajrakova, Andrey Aleshkin, Stanislav Afanasiev and Vladimir Aleshkin

Chapter 19 Probiotic Use for the Prevention of Necrotizing Enterocolitis in Preterm Infants 433
Fatma Nur Sari and Ugur Dilmen

Chapter 20 Dairy Probiotic Foods and Bacterial Vaginosis: A Review on Mechanism of Action 445
Parvin Bastani, Aziz Homayouni, Violet Gasemnezhad Tabrizian and Somayeh Ziyadi

Chapter 21 Usefulness of Probiotics for Neonates? 457Marie-José Butel, Anne-Judith Waligora-Dupriet and Julio Aires

Chapter 22 Probiotics and Mucosal Immune Response 481Petar Nikolov


Section 3 of the textbook : Probiotics in Biotechnological Aspects .

Chapter 23 Encapsulation Technology to Protect Probiotic Bacteria 501María Chávarri, Izaskun Marañón and María Carmen Villarán


Chapter 24 Different Methods of Probiotics Stabilization 541
Kamila Goderska

Chapter 25 Probiotic Food Products Classes, Types, and Processing 551Saddam S. Awaisheh

Chapter 26 Biotechnological Aspects in the Selection of the Probiotic Capacity of Strains 583
Andrea Carolina Aguirre Rodríguez and Jorge Hernán Moreno Cardozo


Section 4 of the textbook : Aquaculture .

Chapter 27 Probiotics in Larvae and Juvenile Whiteleg Shrimp Litopenaeus vannamei 601
I.E. Luis-Villaseñor, A.I. Campa-Córdova and F.J. Ascencio-Valle

Chapter 28 Probiotic Biofilms 623Mariella Rivas and Carlos Riquelme .
You've just read an article category Microbiology and Virology by title TEXTBOOK : PROBIOTICS. You can bookmark this page URL http://www.openaccessbooks.com/2013/02/textbook-probiotics.html. Thank you!
Published by:
Unknown
- Wednesday, February 6, 2013